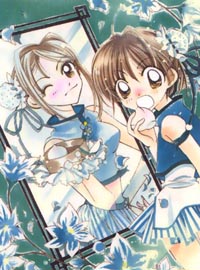 Synopsis
Kawashima Natsumi is a fifth grader, and she always fantasizes about being grown-up. She fantasizes about it so much that she would strategically stick apples and melons under her clothes to see the effects. Unfortunately, her fantasies would sometimes get interrupted by her next-door neighbor and longtime friend, Yaneyama Asuma.
Even though they've known each other since they were in diapers, Asuma and Natsumi argue all the time. One day, Asuma makes fun of Natsumi for making goo-goo eyes at a cute, older guy. Humiliated, Natsumi leaves and runs into a woman offering nut samples. But when Natsumi asks for some, the woman said it's for adults only.
That was the last straw for Natsumi, and she grabs the basket of nuts from the woman before running off. Then she gobbles down some before going to bed.
The following morning, she woke up 10 years older and a total bombshell, especially since she's crammed in her little-girl clothes. It was not long before Asuma finds her and tries to save her from herself. She's essentially a little kid in a body that any man would lust for, and the results are disastrous, starting with a couple of big guys kidnapping her.
The mastermind behind Natsumi's kidnapping was Morinomiya Yuunosuke, a professor of genetic engineering who invented the adult nuts. After observing Natsumi, he decided to study the nuts with her as his subject. The good doctor has an impish streak, which led Natsumi and Asuma into more disasters.
Over four volumes, Natsumi manages to charm several men, fight with Asuma every opportunity she got, use adult nuts whenever she could, and lose lots of clothing as much as she can. Those, and the good doctor also invents new types of nuts that has freaky effects. It was not until Asuma was leaving did she become honest with herself and admit that she actually likes him.
Asuma, on the other hand, likes Natsumi all along. The adult nuts simply became the bane of his existence because as an adult, Natsumi always manages to give him nosebleeds. And as a child, they could not help but fight all the time because they misunderstand each other. When Asuma's father got promoted and he had to move to Hiroshima, he was forced to forget Natsumi. That is, until Natsumi goes after him for a random reason that leads to a confession from both of them. And they lived happily ever after.