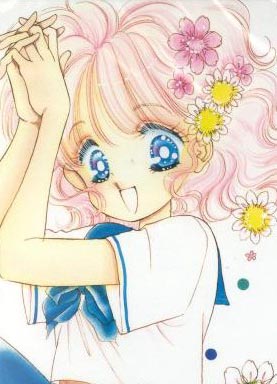 Synopsis
As a child, Aida Nonoka was almost attacked by a drunk man but was saved by two boys. Fast forward 11 years, and we find Nonoka an accomplished judo player. She's surrounded by guys most of the time, such as her three brothers and her judo teammates. Her family owns a dojo, where her team practices whenever the school's dojo is not available.

Nonoka is drawn to two guys. One is Hashiba Yuya, who is her schoolmate and also a good judo player. The other is Oda Shinobu, who is also Nonoka's schoolmate and whom she considers a good friend. Shinobu is quite skilled at the piano.

One day, their quaint little love triangle changes. Nonoka's childhood friend, Ichijo Hajime, visits from Poland with his father. The two of them shock Nonoka and her brothers by revealing that they would like to see Hajime and Nonoka married. Oh, but this is not just the Ichijos' idea. It turns out that Nonoka's father, on his deathbed, asked Hajime's father to ensure that Nonoka will become his daughter-in-law.

Hajime is very good looking (in that 80s sort of way) and a skilled judo player who can kick Yuya's ass. He makes it clear that he desires Nonoka, and he openly challenges Yuya and Shinobu to take her away from him. Nonoka is perversely pleased at the attention that Hajime lavishes on her, but she secretly hopes that Yuya and Shinobu would do something to break their engagement. She is quite upset that neither of them would do anything.

Things come to a head when Hajime's father proposes to take Nonoka to Poland to provide her with quality judo training (and to ensure that his son won't have any competition from Yuya and Shinobu). He and his son took Nonoka's slightest indication of interest as willingness, and they proceeded to make the engagement official and to take Nonoka back with them to Poland.

Yuya crashes the engagement ceremony and challenges Hajime to a match. Winner takes Nonoka. Hajime agrees. The match commences, and it is clear that it is only a matter of time before Hajime wins. Then Shinobu shows up at the dojo. During a break, he tells Yuya to aim for Hajime's vulnerable point. Yuya does so and wins the match.

Nonoka is ecstatic at how Yuya and Shinobu worked together to save her from Hajime's perverted clutches. The OAV ends with Nonoka and Yuya back at school. Hajime returned to Poland but promised Nonoka that he will come back for her. The two of them stop by the music room so that Yuya can thank Shinobu. But then they find Hajime, instead of Shinobu, at the piano. Evidently, Hajime planned on coming back for Nonoka sooner than they thought.