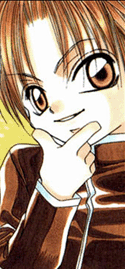 Synopsis
Hashimoto Mari made a wish, that she will meet her ideal guy. In her wish, she specified that he should be tall and handsome with a sexy voice. Unfortunately, she forgot to specify the personality. And that's exactly what she got: a gorgeous guy with a crappy personality :P
Their meeting went okay enough. Mari fell and lots of guys saw her froggy undies. Then a gorgeous guy came from out of nowhere and helped her up. Even better, he told off the other guys and had them stop making fun of her. Mari came back to her classroom and told her best friend, You-chan, about it. You-chan then told her it must be the new international exchange student, which got Mari even more excited.
Then Mari goes home to help her parents prepare for the arrival of her dad's friend's daughter, who will be coming from Switzerland to go to Mari's school. Then Mari's dad comes home with...the guy who rescued Mari earlier that day. His name is Hamada Chiaki, which was misleading and made them think he was a girl.
Naturally, Mari was thrilled. However, when the two of them were finally alone and Mari started talking to him, Chiaki straight out told her that he's not into niceties and that she's too noisy. And then he made fun of her froggy undies

XD Turns out he's nice only to strangers.
Chiaki may be pretty rude, but he definitely likes Mari and went to extreme lengths to harass her and let other guys know that she's not available. It was hard to hide their relationship from Mari's parents, but they didn't have to do so for long. Chiaki's parents decided that it was time for him to return to Switzerland. And then...well, there's really not much left to the story after that, save a love scene or two, so I'll just leave it at that :P
Ijiwaru Shinaide also has a short story that involves love between cousins (you can see that Aoki-sensei is particularly fascinated with relatives) and has an omake about Chiaki and Mari's life 10 years into the future :) I like those kinds of omake.