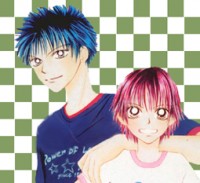 Synopsis
Aizawa Kyo's father loves basketball. Unfortunately, an injury prevented him from becoming a pro, so he decided to live vicariously through his daughter. In fact, he was so vicarious about it that he registered Kyo at Seishu High School, a boarding school that had one of the best guys' basketball team in the country. Kyo was all excited about it, because the girls at that school has adorable uniforms. Then she finds out that her dad registered her as a guy.
Of course, Kyo's dad did it because he wanted her to play basketball with one of the best high school teams in the country, with nary a concern for the fact that his daughter will live in a guys' dorm and worry about how she could shower and take care of her periods and all that fun stuff.
Kyo made a gorgeous guy. Short, sure, but gorgeous. The girls at the school noticed her immediately. And she immediately noticed her gorgeous teammate, Eniwa Chiharu. He's considered the star player of the basketball team, even though he's only a freshman. From the beginning, there was crackling tension between Chiharu and Kyo. They, however, made a great team on the court. Then they found out they're roommates.
As the schoolyear progressed, Chiharu and Kyo saw each other through various obstacles (some of which were caused by each other). Gradually, Chiharu realized he was incredibly attracted to Kyo. Kyo wasn't impervious to Chiharu's charms as well.
It goes without saying that Kyo held her own with the guys' basketball team. Even before she went to Seishu, she was already considered a great basketball player. She was so good that her sempai from middle school, Tsukaya, decided to transfer to Seishu. Tsukaya and Kyo used to play on the girls' basketball team at their old school. Tsukaya expected that they would also play on the girls' basketball team at Seishu. This sempai of Kyo's was responsible for exposing her secret to Chiharu (in the literal sense).
Chiharu and Kyo continue to go through more obstacles (some of which were caused by each other. Still). The story culminates with Kyo's gender being exposed (literally) to the whole basketball team. They were then forced to decide if she should remain at Seishu after all.