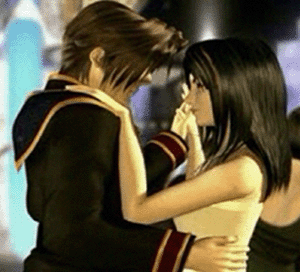 Synopsis
Squall Leonhart is a student at Balamb Garden, a training academy for students who want to join SeeD. SeeD is composed of combat specialists. They are commissioned by individuals and groups all over the world to perform various missions that call for their expertise. Not all students get to be SeeD. They have to pass a field exam that involves accompanying SeeDs on a real mission, and their performance is evaluated.
The game opens with Squall embroiled in a gunsword fight against Seifer Almasy. Seifer is another student in the academy, the only person aside from Squall who weilds a gunsword. A gunsword is basically... a child borne to a sword and a gun. Hurrah. Anyway, Squall and Seifer have been rivals for a while, and this particular battle resulted in them giving each other scars between their eyes. Yes. The only flaw in Squall's otherwise perfect visage.
Up until this point, everything has been in high-quality CG. The nasty graphics come when Squall comes to in the school clinic. His teacher, Quistis, visits him. Quistis is only a year older than Squall, but she's already a full SeeD and an instructor to boot. She also has a huge following among her students. She pokes fun at Squall's typically reticent behavior and reminds him to take his preliminary exam before taking the SeeD test.
The preliminary exam is where the player learned the ins and outs of the game. After Squall runs around Balamb Garden and learns basic game things, he and Quistis go to a cave just beyond Balamb Garden to retrieve a Guardian Force, or GF. These are essentially summoned monsters that can perform powerful magic. SeeDs use GFs a lot.
Squall then takes the SeeD test, along with Seifer, Zell Dincht, and Selphie Tilmitt. Zell is a classmate who specializes in hand combat, and he's a little too loud for Squall's taste. Selphie is a visiting student from Trabia Garden, a sister school further up north. Seifer is assigned as their group leader. They were dispatched to Dollet, a town that went under siege by Galbadian Forces. Due to Seifer's cockiness, the group got embroiled in the center of the mission and barely escaped Dollet.
Squall, Zell, and Selphie pass the field exam. That evening, they celebrated at their inaugural ball. While standing in a corner with a drink, Squall got accosted by a pretty girl who asked him to dance. She finally hauled him to the dance floor. Squall had no idea how to dance, but he quickly got the hang of it. In the middle of their dance, however, the girl apparently saw someone and immediately excused herself.
The morning after, Squall, Zell, and Selphie promptly got assigned to a mission to help the Forest Owls, a rebel group working against Galbadian Forces. Obviously, this group didn't have much money, so Cid, the Balamb Garden headmaster, assigned the newest SeeDs to help their cause. Along the way, the three of them fall into a trance. Squall dreamt he's a Galbadian soldier named Laguna Loire, and Zell and Selphie dreamt they're Laguna's friends, Kiros and Ward. When they awoke, they don't know what to make of this trance, but do not think more of it. Upon meeting the Forest Owls, Squall discovers that their ringleader is no other than the girl he met last night. Her name is Rinoa Heartilly.
The Forest Owls plan on abducting the Galbadian president, Deling, from his train. This mission, however, goes horribly wrong because the president sent a monster in his place (yeah, he did). Since SeeD's contract with the Forest Owls said they have to help them until they succeed in their battle against Galbadia, Squall and his group had no choice but to follow Rinoa and her people to Timber. There President Deling will give a televised broadcast. Things go from bad to worse when Seifer seizes the president in the middle of his broadcast. He wants to help Rinoa (around this time we also find out that he and Rinoa used to date). Quistis then goes on air and orders Squall and his group to join them in the station.
Seifer's hostage has a powerful ally, the Sorceress Edea. She whisks away Seifer before Squall and the others could rescue him. Their next step involves going to Galbadia Garden to meet up with its headmaster. There they received instructions to assassinate the sorceress using a sniper. They do not have a sniper in their group, so a Galbadian SeeD sniper, by the name of Irvine Kinneas, joins them.
This is only the tip of the iceberg. In Squall and his friends' quest to defeat the sorceress, they run afoul of Seifer over and over. The trances continues, which Squall doesn't like because he thinks Laguna is a colossal moron. The group's collective past in an orphanage haunts them. Questions abound. Who is Laguna? What is the sorceress' motives? What is SeeD? Their quest culminates in confronting the true villain behind it all. Of course.